Win Engineering: Quality - Service - Value
Win Engineering: Quality - Service - Value

Jonny Win and his team at Win Engineering have been members of the CPAA for 8 years. They continuously support Association projects and publications including the 2016 Expo and Silver Premium Sponsorship in the 2017 Concrete Pumper's Annual Magazine.
MISSION
We service the construction and mining industries throughout Australia and internationally. Our products have undergone rigorous testing and in 2004 our manufacturing became ISO 09001:2008 compliant.Again in 2004, we were certified by BVQI (Certificate No. AU002163-1), the world leader in international accreditation. These important credentials show how determined we are to give our customers confidence in the quality of W. WIN Engineering supplied products.
BUSINESS PROFILE
WIN Engineering Pty Ltd has been established as the leader in concrete pumping accessories in Australia since 1991. In recent years, we have expanded into spare parts for Concrete Pumping equipment and also small capacity Concrete Pumping equipment.
We also offer Concrete Pump servicing and engineering solutions make W.WIN Engineering, your one stop shop for Concrete Pumping spare parts, accessories and equipment.
Our accessories range includes concrete placement pipeline, pipeline reducers, various clamping arrangements and concrete place hoses of various sizes with steel or fabric core and shotcrete accessories.
We also stock aftermarket spare parts for Putzmeister, Junjin, Schwing, Everdigm, Sermac, Concord, Zoomlion, Sandy and other big brand names. Our aftermarket spare parts range includes S-tubes, wear plate, wear rings, hopper assembly and much more!
Our Concrete Pumping equipment range includes trailer mounted, skid mounted and truck mounted pumps. The capacity ranges we offer are 10/20/40/60/80 cubic meters per hour. All pumps are assembled in our Sydney warehouse by skilled tradesmen, ensuring the highest of quality.
Through the manufacture and sale of high-quality products we have been successful and now have the largest range of Concrete Pump parts and accessories stored in our over 3,000 square meter warehouse in the heart of Sydney.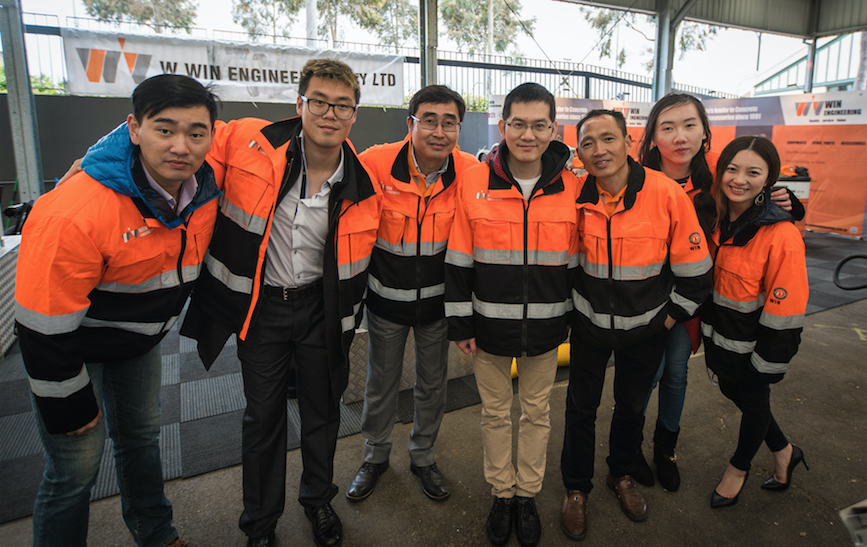 (Win Engineering at the 2016 Concrete Pumper's Expo)
CONTACT
Email: john@wwinengineering.com.au
Address: 5 Blaxland Place, Milperra, NSW 2214
Tel: 02 9771 9525 Fax: 02 9771 9252
Web: www.wwinengineering.com.au