Benchmarking the CPAA: A Competitive Advantage for Members
Benchmarking the CPAA: A Competitive Advantage for Members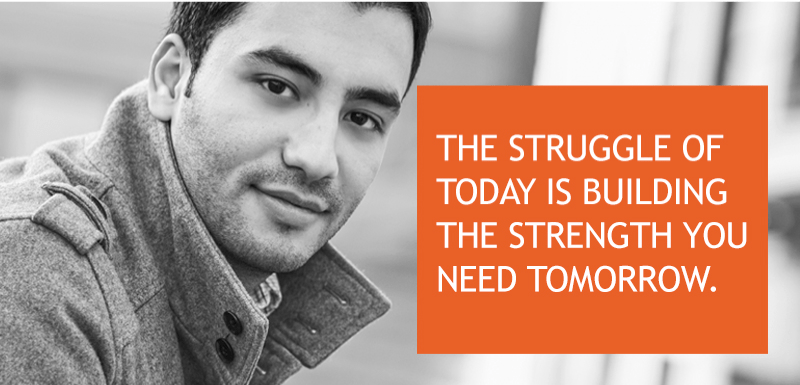 Envision this. The year is 2023 and you're about to stand up to accept an award for outstanding achievement in business. You are about to thank your team for a job well done. In the past 5 years, your sales have increased impressively, in spite of some challenges. Your business is financially efficient and extremely profitable. You have a happy team of employees and you're pleased with the amount of personal cash reserves you've built. As you reflect on where you've been, you say to yourself, "everything changed when we embraced managing our business by the numbers, setting stretch goals with rewards and accountability for excellence in productivity, profit and cash flow."
Your business must continually change, adapt and improve its efficiencies to build value. A culture of continuous performance improvement creates more profit now and more wealth in the future. When building a better business, and improving profit and wealth is your goal, measurement is the catalyst for change. That's where the CPAA Financial Benchmark Study comes into play.
The board of directors has announced that for the first time in the organisation's history, the CPAA will conduct a financial benchmark study for its members. Enrollment in the project is now underway and survey collection will begin 1 November. Conducting the project is the financial education and independent benchmarking company, Profit Soup.
"I met Barbara Nuss of Profit Soup at an education conference of the American Concrete Pumping Association where she shared an overview of the financial study she had recently completed for concrete pumpers in the U.S.," said Craig Heidrich, CEO of Concrete Pumper's Association of Australia. "Members were fully engaged in the numbers and loving it. I realised immediately that having this type of information was a competitive advantage our members absolutely must have."
Those who participate in the study will gain CFO-level tools, insights and conversations that would cost thousands of dollars to receive from an outside consultant.
The study, open to CPAA members operating concrete pumping businesses, will measure the key indicators of financial health for a concrete pumping business. The results of the study will establish benchmarks for financial and operational efficiency. Study participants receive a summary of industry results highlighting what the best in the business achieve. They also receive a confidential report showing how their company's results compare. The confidential scorecard identifies areas to earmark for improvement and assists with setting meaningful, achievable targets.
Having access to industry benchmarks like those that will be published in the study helps put these questions in perspective:
Am I making as much profit as I could? Am I spending too much on direct labour, equipment costs, repairs and maintenance, sales and administrative wages and company overheads?
Do I have enough equipment – or too much? Your equipment and the team that runs it are your most important resources. If either are underutilised, profits suffer. If they are at maximum capacity, you may be missing opportunities.
Am I managing my cash properly? Many profitable businesses have failed because they didn't manage cash properly. How quickly do you collect from customers? How quickly to do pay suppliers?
Do I have too much debt? Business value grows through a combination of profits and sound borrowing decisions designed to strategically create capacity to grow. How well have you managed assets and controlled debt? Benchmarking asset productivity in tandem with debt-to-worth and return on investment ratios tell the financial story of your business and offer a glimpse into your financial future.
Benchmarking can have an impact that reaches far beyond the accounting department. It possesses the potential to reform all the levels of the company, modify processes, reveal flaws in what were previously considered inherent truths and affirm improvement has been achieved. Used strategically, benchmarking can transform not only the business but also the product or service itself, the corporate culture and employee morale.
A metrics-driven business is only effective when the right metrics are chosen – those that focus on the true drivers of success. In today's environment, top-line revenue may not be as important as you think. If you define success strictly on revenue growth, salespeople may be motivated to discount to get the job, driving down profits unnecessarily - only to later have to pass up other more profitable opportunities due to capacity constraints.
As judged by sales growth, many businesses are achieving outstanding results, but when basing the assessment on profitability, results are only mediocre. A real and significant shortage of labour creates a point of constraint – a problem you can't sell your way out of. Perhaps revenue or even gross profit per direct labour hour is the better metric to benchmark. With this approach, the team focuses on producing the most profit from its available capacity.
Labour efficiency and equipment utilisation are more important than ever. Based on study results, members will be able to set specific targets based on what the best in the business achieve for metrics such as revenue and gross profit per direct labour hour, equipment utilization and more.
Now back to your acceptance speech. You think to yourself "they key to our success wasn't hitting our targets, but targeting the right things and aiming high."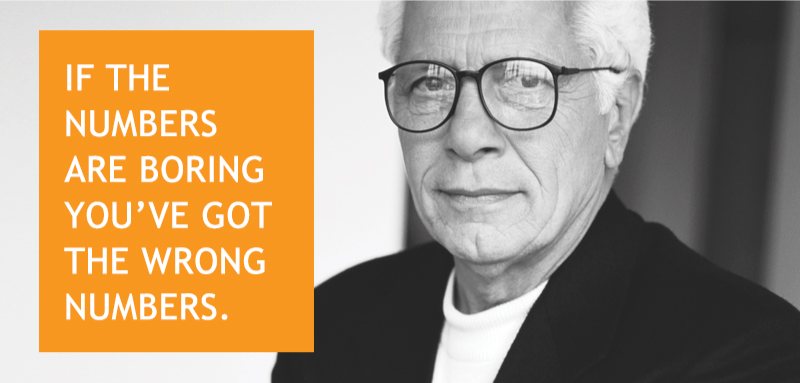 About the Author:

Barbara Nuss is President and Founder of Profit Soup, a financial education and independent benchmarking company. The Concrete Pumping Association of Australia has commissioned Profit Soup to study recent financial results of its members. Ms. Nuss has authored studies for the American Concrete Pumping Association, Crane Industry Council of Australia and many other industries including equipment rental, crane rental and other specialty contracting trades as well as a host of other business models through her work with trade associations and franchise organizations all over the US, Canada and Australia.
---
We are pleased to announce that the Concrete Pumping Association of Australia will sponsor a financial benchmark study commencing 1 November.

We have partnered with the independent benchmarking firm, Profit Soup, to produce the study which will be based on 2017/18 financial year results.
Participation is open, encouraged and free for CPAA members who operate concrete pumping companies. The study will contrast aggregate results representing industry averages to the top, most profitable performers to demonstrate just how the best in the business outperform the rest.
Participants receive a confidential financial assessment for their own business as well as "state of the industry" report, including key financial metrics.
We know that confidentiality is important, which is why we've selected Profit Soup as our trusted partner for the project. Only Barbara Nuss, CPA and select members of her team will have access to individual company results. No company-specific information will be shared with the CPAA or anyone else. Only aggregated figures are shared in the reports.
Profit Soup has conducted similar studies for the American Concrete Pumping Association and the Crane Industry Council of Australia.
Those that have participated in these projects appreciate the incredibly valuable insights they gained by seeing how their results compare to similar companies. By using the study, alongside their confidential financial assessments, decision makers create a business improvement plan with measurable objectives. Identify where you can drive more profit – further improving your strengths, or bolster some of your weaker areas – and set goals that you can easily measure progress toward.
Jump on board with the project by enrolling to state your intent to participate. More participation provides better, more reliable benchmarks. At no cost to members and with the confidentiality assurances of a professional benchmarking firm, why wouldn't you participate and benefit from the rich information this report provides?
Improve your chances of continued success in 2019 by participating in this study. The survey will be distributed in November after companies have had a chance to finalize 2018 financials.
To find out more, attend the toolbox talks at the 2018 Concrete Pumper's Expo!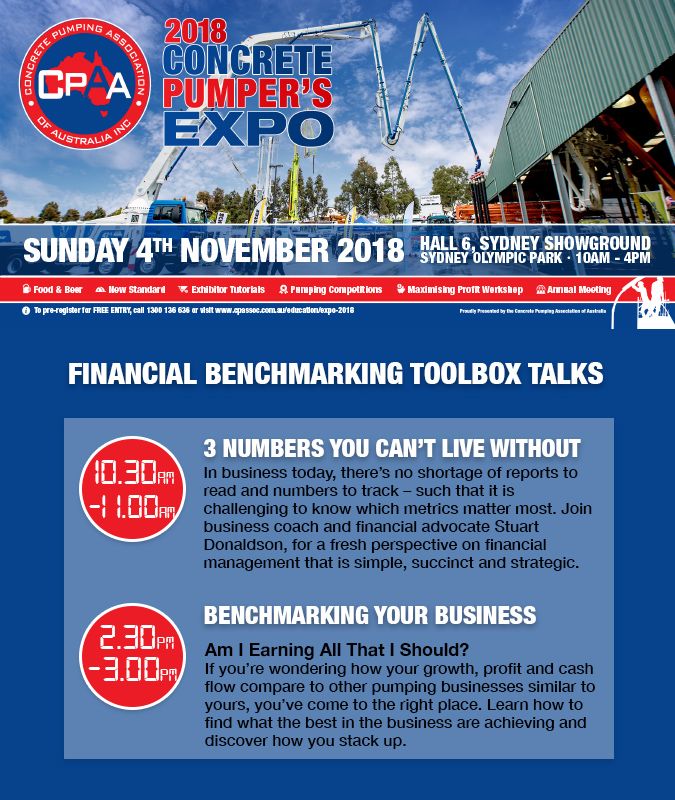 Enrol your intention to participate below and give your accountant a heads-up now, so you're sure to have your results ready in time to participate.