ACI Certification can help build your reputation with owners and specifiers and gives you the potential to become eligible for more projects. Your staff will be more knowledgable and increase their skills, leading to better results and making the job safer. Investing in your team is an investment in your business.
SIX REASONS YOU SHOULD ATTEND!
1) Attain an internationally recognised shotcrete certification
2) Differentiate yourself from the competition in your industry
3) Become recognised and qualified for the skilled work that you do
4) Ask the tricky questions you were never sure about
5) Add another selling point to your resume for potential clients
6) It shows employers that you not only have a commitment to the industry but that you are educated and proven to be a certified nozzlemen.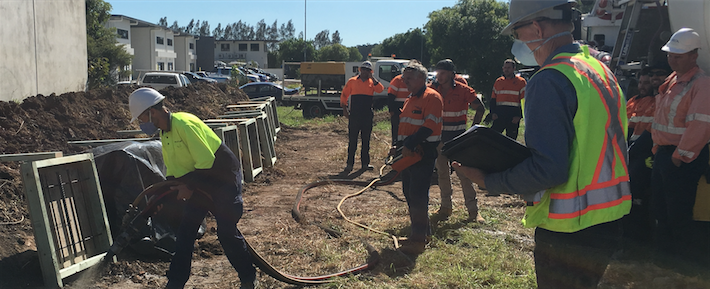 Course Structure:
Day 1: Education Course
Day 2: Spraying and Examination
Optional Day 3: Coring and Feedback
DATE:
March 2024
LOCATION:
Melbourne
INCLUSIONS:
ACI Shotcrete Nozzleman Workbook
Complimentary 1-year membership to the American Shotcrete Association
CPAA Certificate of Completion
CPAA & ASA Stickers
CPAA Cap
Registration as a Certified Shotcrete Nozzlemen on the CPAA and ACI websites for public reference
---
Day 1: Education Course
The Shotcrete Nozzleman Education Course is a seven (7) hour classroom component for Nozzlemen seeking certification for the first time. The course is a pre-requisite before undertaking later Certification. The course, however, provides a great overview of the shotcrete process for owners, contractors and project managers.
What you will learn at the Day 1 Shotcrete Nozzleman Education Course:
Concrete Materials
Mixture Proportioning
What is Shotcrete
Shotcrete Materials
Shotcrete Equipment
Preparation for shooting
Shotcrete Placement Principles and Techniques
Communication
Environmental Conditions & Precautions
Finishing & Tolerance Controls
Safety
---
Day 2: Spraying and Examination
The Shotcrete Nozzleman Education Course with Certification is conducted over two (2) days. Day one (1) is the classroom component for Nozzlemen seeking certification for the first time. Full certification includes written components and performance exams. The performance exams require shooting test panels, coring and grading the quality of the shotcrete placement.
Nozzlemen are required to show 500 hours of shooting experience before they may pursue certification. 2 certifications are available:
Wet Mix Vertical
Wet Mix Overhead
2024 PRICING STRUCTURE
(EXCLUSIVE OF GST)*
MEMBER
NON-MEMBER
Shotcrete Education Course (1 Day)
$2,000
$2,500

Shotcrete Course with Examination and Certification (2 Day)

$2,700

$3,375

Re-Certification Course
$1,500
$1,875

If you have any further questions, please contact the Concrete Pumping Association of Australia on 1300 136 636 or info@cpassoc.com.au.
---
Terms & Conditions
The Australian Goods and Services Tax (GST) at 10% is applicable to all goods and services offered by the CPAA and all prices in this document are exclusive of the GST. GST is calculated at the date of publication of this document. The CPAA reserves the right to vary the quoted prices in accordance with any movements in the legislated rate of the GST.
The total amount due is payable 7 days from the date of the tax invoice.
All monies are payable in Australian dollars.
A 50% refund is applicable 60 days from the date of the course. No refund is applicable in the 60 days leading up to the course. Alternatively, the full cost is transferable to another course.
The participant is responsible for completing and signing their prerequisite 25 or 500 hours of nozzleman experience on an ASA Work Experience form. These will be provided to candidates prior to the course.
Participants are also required to be available for a conversation by phone with the Examiner as part of the Work Experience evaluation.
The completed form(s) must be submitted to the Concrete Pumping Association of Australia for final review and signature.
Falsification of work experience documentation will constitute removal from the certification session and possible future certification sessions.