Membership Information
Membership provides you and your business with…
Education
CPAA members now receive more standards /guideline updates, products, events, courses and publications than ever before in the Association's history. Members are at the forefront of news, regarding innovation, changes to the industry and requirements from standards and guidelines for each state and territory.
Safety
The CPAA are constantly working to update Codes and Standards to make the industry safer. Coupled with our education and certification to increase your skills, we can help the concrete pumping industry strive for higher quality workers, increasing the overall safety of the workplace and welfare of pumpers.
Certification
The Association's current momentum is the result of the engagement of members, which allows the industry to tackle more challenges and implement certification and training courses such as the 2019 Shotcrete Certification Course. The CPAA also aims to create certification courses for boom, line and satellite pumpers in the future .
---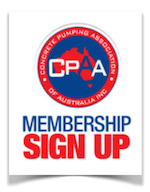 Benefits of Membership:
Nominate up to 3 representatives to receive information circulars
Voting rights w/right to nominate to National Management Committee
Complimentary copy of 'Concrete Pumpers Annual Magazine'
Free access to National Expo and Picnic
Discounts on all products, including logbooks, Safety Stickers and Safety Manuals
Discounts on sponsorship and exhibition with National Expo and Picnic
Use of Association logo on company promotional material (e.g. website)
Weblink on Association website
Access to E-Blasts notifications and special circulars related to safety alerts
Access to E-Blast advertising
Increased professional credibility
Regular offers/discounts to members

With all of the above benefits and more, why not become a member of the CPAA today!