Australasian Tunnelling Conference 2017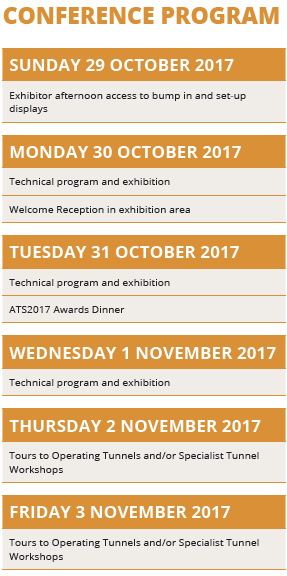 The 16th Australasian Tunnelling Society (ATS) Conference, the triennial industry event, will be held in Sydney 30 OCTOBER - 1 NOVEMBER 2017 THE STAR, SYDNEY, AUSTRALIA. The conference is a great opportunity for individuals to take time out from their day-to-day to learn from and reflect on the many advances made by the industry. It is a great opportunity to meet, explain, question and listen.
In many instances, the scale of recently completed or current projects are establishing new tunnelling milestones for Australasia – the longest rail tunnels, the longest road tunnels, the largest caverns. Projects have become 'bigger' and with these scales come technical and contractual complexities.
A test of industry capability is to deliver innovation despite this increasing workload. The conference will provide a platform for our technical leaders to present innovations in design and delivery proving that continuous improvement is driving 'better', more efficient project outcomes.
Attendees at this year's conference will be aware of the current high level of industry activity. With 'more' projects being showcased, we're con dent that the 16th ATS conference will prove very popular and will be well supported.
And so, we have established a conference theme that reflects the state of the industry in the period from the 15th ATS conference in 2014 to the current time. Underground works in Australasia has been and continues to be, a challenging space that is delivering bigger, better and more projects.
The hosts and organising committee invite you to attend and look forward to welcoming you to Sydney and 16th Australasian Tunnelling Conference.

ATS2017 will exceed the success of 2014 with:
- Over 400 attendees
- Over 80 peer reviewed technical papers
- Numerous international technical papers
- Over 50 sponsors and exhibitors
- Senior government keynote speakers
- Major project sponsor keynote speakers
Participate in the three-day exhibition where you can see the latest products and services from the leading industry organisation
Attend Presentations in streams including:
1. Urban Planning, Project Development and Project Delivery
Project Financing, Procurement, Environmental Assessment, Value Capture, Project Case Studies
2. Construction Methodologies
Equipment and Applications, Materials, Mining, Durability, Pavement and Civil-fit out
3. Ground and Ground Support
Geology, Geotechnics, Tunnel Linings, Groundwater, Waterproofing, Settlement
4. Systems, Operation and Maintenance
Safety, Ventilation, Fire, ITS, Systems Engineering, Project Risk, Training Program
5. Urban Design and Aesthetic
Community Engagement, Customer Experience, Underground Space, Architectural Strategies, Social Benefit, Human Factors and Psychology
6. Digital Tunnel and Data
Asset Information Modelling, Standardisation, Survey, Monitoring, Operations, New Technologies and Software Analytics.
---