We are now seeking an expression of interest for both Sydney and Melbourne line pump courses , with a date yet to be announced.
We are currently accepting enrolments via the link below.
Contact the office on 1300 136 636 or info@cpassoc.com.au for more information.

or

---
The CPAA's Line Pump Training Courses aim to increase knowledge of Line Pumpers through the dissemination of current information and schooling on best practice.
Understand the basics of line pumping from a course delivered in one day. This course provides members with an overview of planning, set-up, operation, cleaning and hazards of line pumps in the construction industry. This course is particularly useful for people in roles such as a spotter and line hand.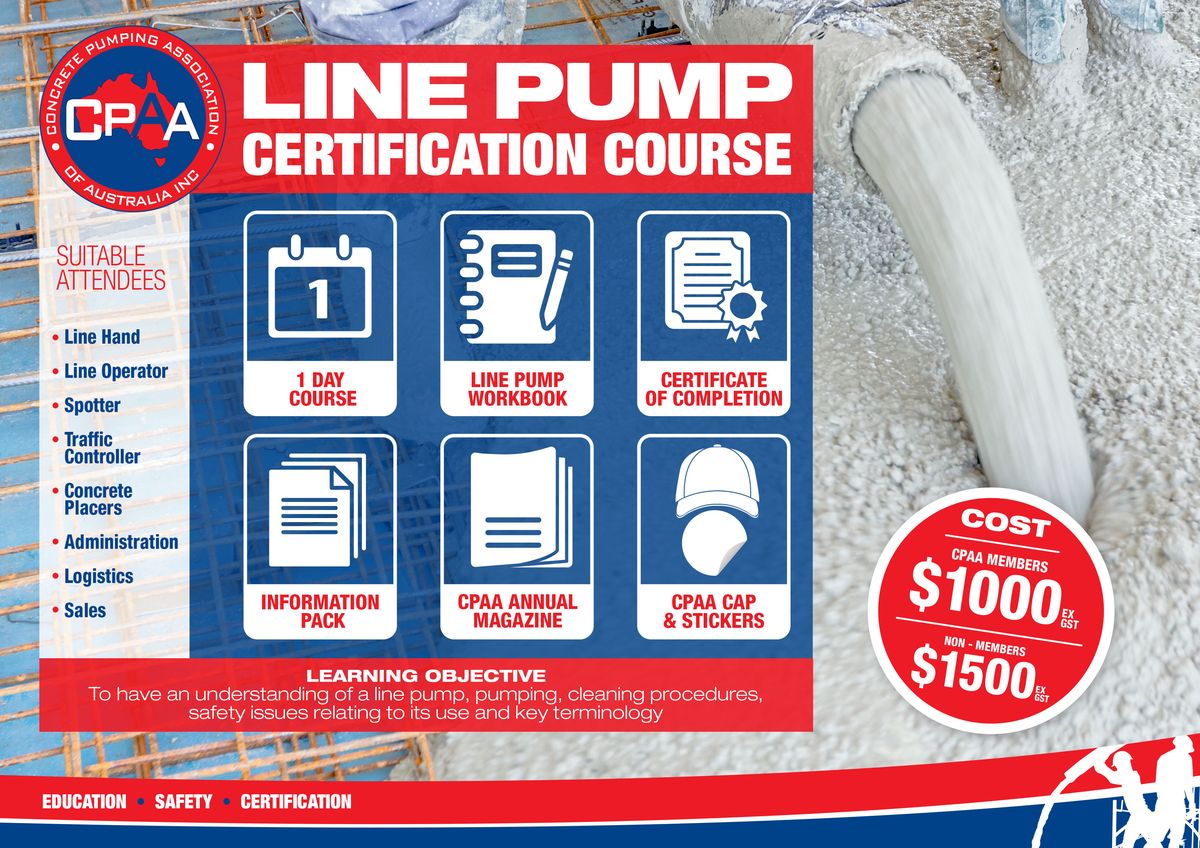 ---
COURSE DETAILS
Types of Attendees
Line hand, line operator, spotter, traffic controller, concrete placers, administration, logistics or sales positions.
Learning Objective
To have an understanding of a line pump, line pumping, cleaning procedures, safety issues relating to its use and key terminology.
---
Delivery
1-day course
Line Pump Workbook/Presentation Notes
Certificate of Completion
CPAA Information Pack
Concrete Pumper's Annual Magazine
CPAA Stickers
CPAA Cap
---
Assessment
37 multiple choice questions: > 50% to pass
---
Cost
$1,000 (excl GST) CPAA Members
$1,500 (excl GST) Non-Members
---
Testimonials
Rob Windschuttle - W Win Engineering
"The thoroughness and detailed manner in which Neville is able to pass on his wealth of hands on experience is amazing. I witnessed his responses to candid discussions and questions with complete certainty which only comes from living in those moments. I have no doubt that the group on the day would feel the same.
From what I experienced, the content was relevant and detailed. I strongly believe this type of Industry Relative Training is a must for anyone working on or around plant and machinery, only good things can come from investing in your crew in this way. I would encourage today's and tomorrow's pumpies to embrace the notion of being a member of the CPAA. The benefits far outweigh the costs."
---
If you have any questions regarding the Line Pump Training Course, please contact the Concrete Pumping Association of Australia on 1300 136 636 or info@cpassoc.com.au.
---

---
Terms & Conditions
The Australian Goods and Services Tax (GST) at 10% is applicable to all goods and services offered by the CPAA and all prices in this document are exclusive of the GST. GST is calculated at the date of publication of this document. The CPAA reserves the right to vary the quoted prices in accordance with any movements in the legislated rate of the GST.

Payment is required to secure a position in the course. If the course is cancelled, the total received will be refunded.

50% of fees will be forfeited if withdrawal is more than 14 days in advance of the course date. Alternatively, the full cost is transferable to another course.

Fees are non-refundable if withdrawal is less than 14 days in advance of the course date. Alternatively, the full cost is transferable to another course.

All monies are payable in Australian dollars.

Cheques should be made payable to Concrete Pumping Association of Australia and must be drawn on an Australian bank.

All monies due and payable must be received (and cheques cleared) by the CPAA to confirm attendance

The completed application form must be submitted to the Concrete Pumping Association of Australia for final review and approval by the CPAA Management Committee.