NHVR: National Services Transition & How to use the online portal
NHVR: National Services Transition & How to use the online portal

National Heavy Vehicle Regulator (NHVR)
The National Heavy Vehicle Regulator (NHVR) coordinates the access of heavy vehicles to ensure a safe, efficient and sustainable road network for industry.
The NHVR facilitates a range of access applications from start to finish by liaising directly with road managers (both state and territory road authorities and local government) to manage the application process and the issue of permits.
National Services Transition
Since commencing, the NHVR has worked in partnership with each of the participating states and territories (jurisdictions) to provide regulatory services under the Heavy Vehicle National Law (HVNL) on its behalf. In December 2015, the National Services Transition project was established to facilitate the transition of the delivery of regulatory compliance services from jurisdictions to the NHVR.
The move to have all regulatory services come under the direct control of the NHVR will:
improve safety, productivity and efficiency outcomes
provide a single point of contact and a consistent approach towards heavy vehicle compliance activities
reduce duplication and minimise the compliance burden on the heavy vehicle road transport industry.
What this means for you
Once your state has returned the permit delegations, any concrete pumps that operate under a permit arrange, and all additional access-related requirements, will be required to go through NHVR.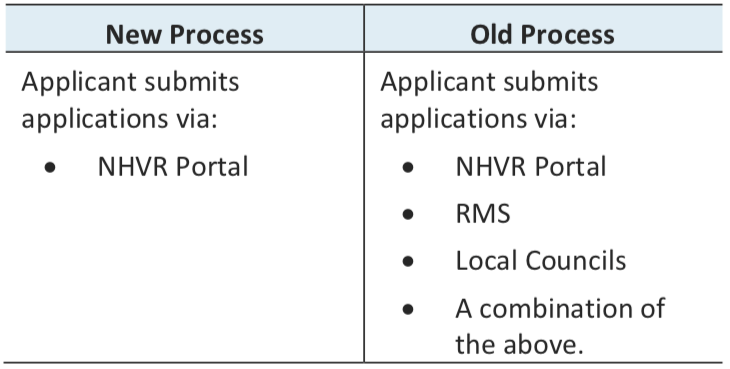 Applying for a permit through the NHVR Portal
To apply for a permit, you must use the NHVR Portal. NHVR have held a number of webinars (recordings now published online) to teach you how to use the portal. There are a range of interactive webinar trainings for Customers and Managers available on the NHVR website. View and register for upcoming NHVR webinars here.
NHVR Portal Customer Training (watch below)
---
ACT
The NHVR has commenced planning and implementation of the transition of heavy vehicle regulatory services from the ACT's Access Canberra to the NHVR from 1 July 2019. From 1 July 2019, Access Canberra will no longer provide heavy vehicle on-road compliance and enforcement services in the ACT. Instead these will be provided by the NHVR.
NSW
In February 2018, New South Wales agreed to transition all HVNL regulatory activities to the NHVR as part of a consolidated transition program. The first stage of the process—due diligence—is underway, with handover not expected before 30 June 2020.
QLD
Queensland has indicated that it will work closely with the NHVR and other jurisdictions in preparation for Queensland's scheduled transition to commence in 2020-21.
SA
The NHVR has been delivering investigations, prosecutions and intelligence gathering in South Australia since October 2016. In October 2017, further services were transitioned, including heavy vehicle driver and operator fatigue monitoring through Safe-T-Cam, heavy vehicle access permit issuing and on-road heavy vehicle compliance monitoring.
The NHVR now has Safety and Compliance Officers operating from its South Australian head office in Adelaide and regional offices in Berri, Ceduna, Mount Gambier, Murray Bridge and Port Augusta.
Services remaining with South Australia's Department of Planning, Transport and Infrastructure include:
clearance of defect notices
inspection of vehicles for approval of modifications
inspection of vehicles for vehicle standards exemptions
mapping of heavy vehicle access networks.
TAS
On 2 July 2018, all heavy vehicle services, including on-road compliance monitoring, transferred from the Tasmanian Department of State Growth to the NHVR.
Services that transitioned to the NHVR include:
on-road education and compliance for drivers, operators and heavy vehicles, including mass, dimension, vehicle standards, load restraints, route compliance and driver fatigue
investigation and prosecution of offences under the HVNL.
Services remaining with State Growth include:
escorting Over-Size and Over-Mass vehicles
passenger transport (taxi and bus) legislation compliance activities
Written-off Vehicle Register (WOVR) light vehicle identity inspections.
VIC
Victoria commenced its transition of services with due diligence in July 2018. Following due diligence, the Victorian Government will consider and agree on a transition date.