Guidelines
The Association has produced a number of guidelines to assist in the safe operation of concrete pumping equipment within the industry.
Despite the broad range of knowledge provided in these guidelines, this is no substitute for common sense and dedication to the idea that you are responsible for your own safety whilst on the job site.
---
Safety Manual: A guide for the prevention of accidents when driving, operating, cleaning and maintaining concrete pumps, placing booms and related equipment.
Safety is one of the major concerns of every person involved in the concrete pumping industry therefore it is vital that everyone makes it their top priority whilst on the job site. This includes the owners,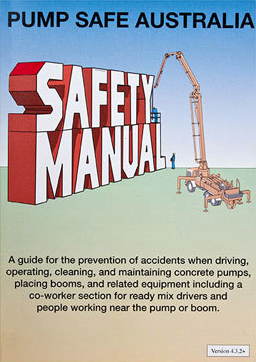 mechanics, ready-mix drivers, placing crew, concrete contractors and machine manufacturers.
This Safety Manual seeks to provide a broad range of information regarding the prevention of accidents whilst operating a concrete pump or placing boom and has been used in conjunction with professional training.
Topics covered include:
Before You Leave the Yard
On the Job Site
Concrete Pump Operation
Cleaning the Pump and System
Maintenance of the machinery
Co-worker Safety
Additional information and materials are available through the CPAA, Standards Australia, WorkCover and WHS Authorities. Overall, make the commitment to be professional- get your certification!
This Safety Manual is available for purchase through our online store. To access, please click here.
---