Possible Safety Issues – Sermac Concrete Placing Unit Booms and Periodic Inspections
Possible Safety Issues – Sermac Concrete Placing Unit Booms and Periodic Inspections
The attached letter has been sent from WorkSafe Victoria with concern regarding a critical component on Sermac manufactured truck-mounted Concrete Placing Units, and to provide relevant prevention guidance applicable to all concrete pumping units.
An incident occurred in Melbourne in 2015 involving the failure of a Sermac Model Z 41 concrete placing unit's boom. A boom linkage failed that resulted in the boom's collapse.
Assessment of the failed linkage by an independent consultant engaged by the owner identified inadequate weld penetration of an external weld that may have contributed to the failure. The triangular linkages are located at some joints between boom sections, as depicted in the photograph below.
The Concrete Pumping Association of Australia recommends that if you own and operate a Sermac concrete placing unit, that you contact one of the inspectors listed below to discuss whether your pump may need inspection.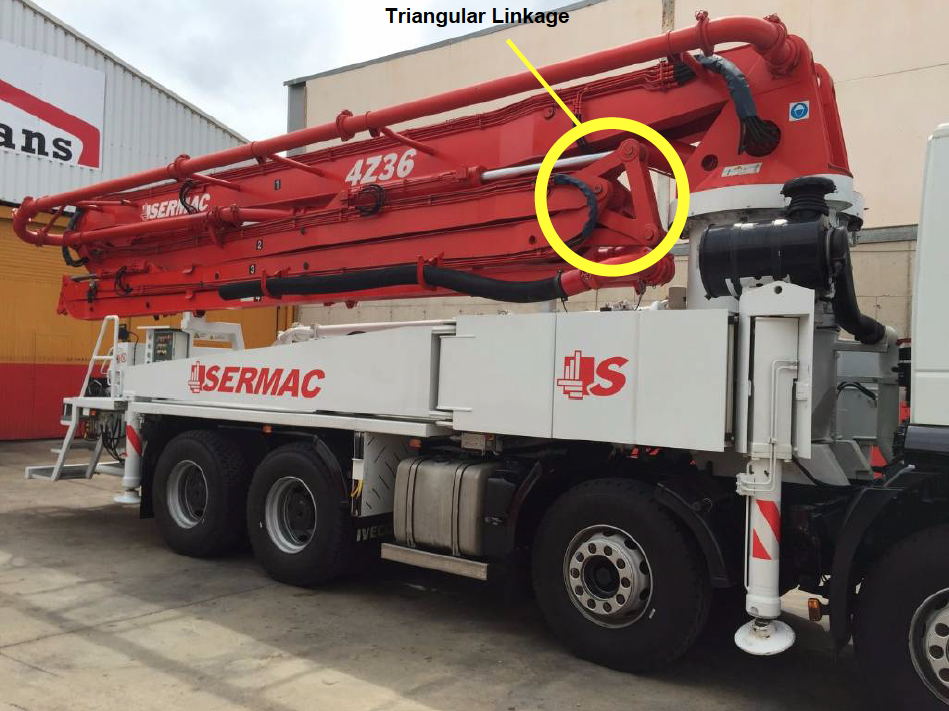 CPAA Members 2017: Inspectors
Border Crane Consultants Pty Ltd 5 Kendall Street Wodonga VIC 3690
Australia
Office: (02) 6056 0440 www.bordercraneconsultants.com.au
Member no. CPA-0207 Category: CPAA-Inspect
Concrete Pump Repairs & Spares 2/2 Watervale Drive Green Fields SA 5107
Australia
Mobile: 0415923474
Member no. CPA-0299 Category: CPAA-Inspect
Earthworks Training 10 Linksview Avenue Penrith NSW 2750
Australia
Mobile: 0400790894
Member no. CPA-0327 Category: CPAA-Inspect
Engineering Services & Non-Destructive Testing 63 Broadford Crescent McLeod VIC 3085
Australia
Mobile: 0415242393
Member no. CPA-0269 Category: CPAA-Inspect,CPAA-RTO
Kanefall Pty Ltd 34 Mount Street Greenslopes QLD 4120
Australia
Mobile: +61 4 0066 4491
Member no. CPA-0211 Category: CPAA-Inspect, CPAA-RTO
Milop Design & Consulting 2 Sesto Place BOSSLEY PARK NSW 2176
Australia
Office: 02 9823 4818
Member no. CPA-0055 Category: CPAA-Inspect
TCS Rural 14/69 Acacia Road Ferntree Gully VIC 3156
Australia
Mobile: 0459240752
Member no. CPA-0320 Category: CPAA-Inspect, CPAA-RTO
---