Pumpers Job Board - Employees Information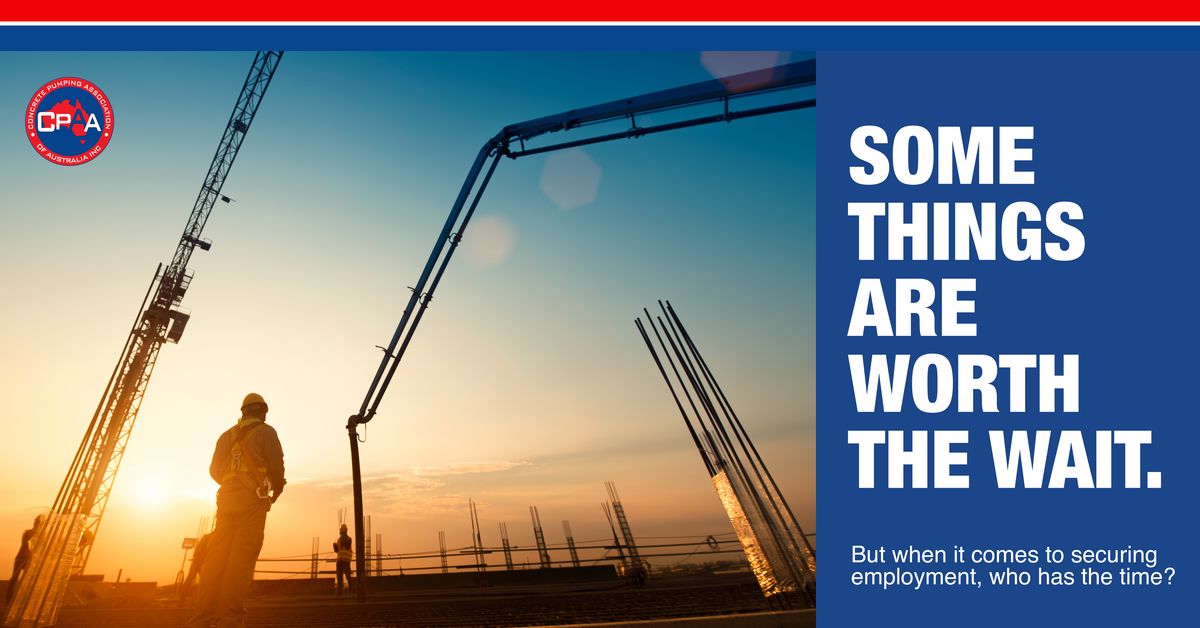 Some things are worth the wait; a cold beer on a Friday arvo, a much-needed holiday, a paycheck entering your bank account.
But sometimes we just can't afford the wait; in traffic jams, for a COVID-19 vaccine or hearing back from your job application.
Securing employment is a tough journey, especially during 2020 with COVID-19 taking the reins. The time spent searching for suitable jobs, crafting an application and waiting weeks just to hear a rejection or worse, nothing at all, can start to feel like it's not worth the wait.
We've taken the hunting, the sifting, the waiting and the hassle out of the job-seeking, helping you find a quality concrete pumping employer by launching our "Pumper's Jobs Board" on the CPAA website.
Another day, another application.
This time, we've got your back, aiming to help you get into the industry ASAP so you don't have to spend another day without earning a dollar.
How it works:
Put yourself out there and post your details on our "Pumper's Jobs Board". That way employers can search and contact you for a specific job. You can also apply for suitable jobs posted by concrete pumping employers on our website.
Through this initiative, the Concrete Pumping Association of Australia aims to bridge the gap between employers and employees by providing a targeted and streamlined platform for industry-specific job postings to match skilled job seekers with hiring companies.
---
The Pumper's Job Board will enjoy a 3 MONTH GRACE PERIOD. All ads posted on the CPAA Pumper's Job Board will be complementary until Monday the 19th of April.
If you are interested in posting an advertisement, please email us at info@cpassoc.com.au or call us on 1300 136 636.
---