Building The Momentum - ACPA Conference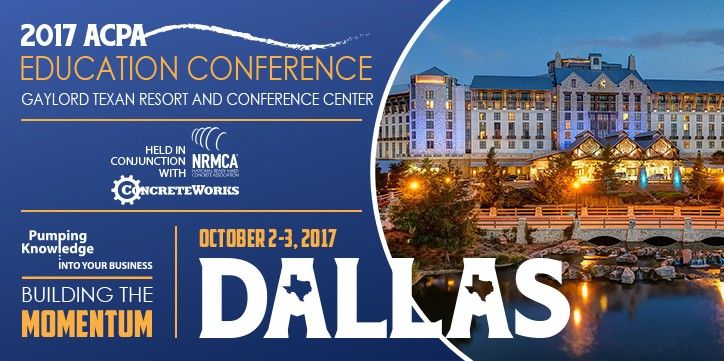 The American Concrete Pumping Association (ACPA) Education Conference has become the education source for the concrete pumping industry in the USA.
The 2017 ACPA Education Conference is scheduled for October 2-3, 2017 at the Gaylord Texan Resort & Convention Center in Grapevine, Texas (a suburb of Dallas). This year's event continues the exciting transition for the expo portion of ACPA's Education Conference as they continue to expand the size of the expo hall. This is also the second year the ACPA will be co-located with the National Ready Mixed Concrete Association's (NRMCA) ConcreteWorks. The NRMCA's presence will bring even more equipment and industry personnel to the 2017 show.
Plenty of industry networking opportunities will be available at this year's event and education sessions will cover a variety of topics that directly relate to operating a successful concrete pumping business such as:
• Financial
• Workforce Development
• Insurance
• Legal
• Compliance
• Coworker Relationships
• Maintenance
• Sales
Event Details
- 2017 ACPA EDUCATION CONFERENCE
- October 2-3, 2017
- Gaylord Texan Resort & Convention Center, Grapevine, Texas
For more details, contact the CPAA at events@cpassoc.com.au