2017 Concrete Pumper's Annual Magazine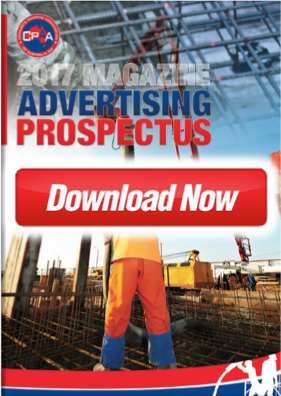 2015 marked the successful transformation of the Concrete Pumper's Annual Magazine to a more widely read and respected publication covering safety, education, certification, industry news and pumping projects that matter to members and readers. Then, in 2016, the Magazine was sent to approximately 95% of industry related businesses and an estimated 12,000 Pumpers.
In 2017 the Magazine will be published alongside the Concrete 2017 Conference in Adelaide, South Australia. This will increase readership by 40% for this year's publication.
The readership profile for the 2017 Magazine includes Concrete Pump Manufacturers, Distributors, Contractors, Service providers, Suppliers, Repairers, Certifiers and Assessors. As well as Concrete 2017 attendees, including Engineers, Scientists, Researchers, Academics, Practitioners and Industry Professionals from Australia and Overseas.
The Magazine would not be possible without the support from our Premium Advertisers, listed below. The CPAA would like to thank these sponsors for their commitment and support to the publication and the Association.
To learn about advertising in the 2017 Concrete Pumper's Annual Magazine, contact Aiden Chilcott at publications@cpassoc.com.au or call the office on 1300 136 636.
---
GOLD SPONSORS

BRONZE SPONSORS
Click below to download previous editions of the Concrete Pumper's Annual Magazine.
2013 2014 2015 2016