What is the elogbook?
Previously called the "Logbook App", the eLogbook is simply a digital app version of the physical logbook, however being an app we have automated and extended features of safety checks that are not possible on a paper book.
HOW DO I GET AN ACCOUNT?
Go to this link to register your business. You'll be sent an email with your username and password.
What if I just want to use the physical logbook?
The eLogbook is NOT replacing our physical logbook and there are no plans to do so, you may use the digital or physical version or both!
What if I need more than 1 logbook?
The eLogbook is designed to be a collection of digital logbooks that keep track of the current and all past years. They do not expire every year like a physical logbook. You'll be able to create a profile for all your trucks and a logbook will be assigned to it.
IS there a logbook limit?
Yes, the amount of logbooks you can have in the app every year is based on your membership level:
Small Operator: up to 5
Medium Operator: up to 10
Large Operator: up to 20
Inspector: up to 10
Is there an instruction manual?
You can view our documentation page which covers everything in the eLogbook and includes video tutorials for some of our sections.
I think I have found an issue or bug.
If you notice anything not working correctly or crashing please email us on info@cpassoc.com.au with as many details as possible so we can fix it and push out an update. Your feedback is important to us.
What happened to daily, monthly and six yearly checks?
The 25+ year old safety standards were recently updated meaning the new logbook and eLogbook have also been changed:
Daily Checks are replaced by Pre-operational Inspections
Monthly Checks are replaced by Routine Inspections
Six Yearly Checks are replaced by Periodic Inspections
For information click here
I WANT TO CHANGE OR HAVE FORGOTTEN MY PASSWORD
To reset your password go to the "Forgot" link in the login page of the app. Here you can enter your business email and you'll be sent a reset password instruction email.
WHAT IF I have decided i dont want to use the elogbook anymore?
No worries. You can contact the Concrete Pumping Association of Australia on 1300 136 636 and they will delete your account and all its data. Make sure you have downloaded all the data you want to keep, or transcibe the information into a physical logbook before requesting to delete your account. Once your account is deleted, the data cannot be accessed.
WHERE CAN I DOWNLOAD THE APP?
For Android click here
For Apple iOS click here
Or open it on another device by scanning our QR Code: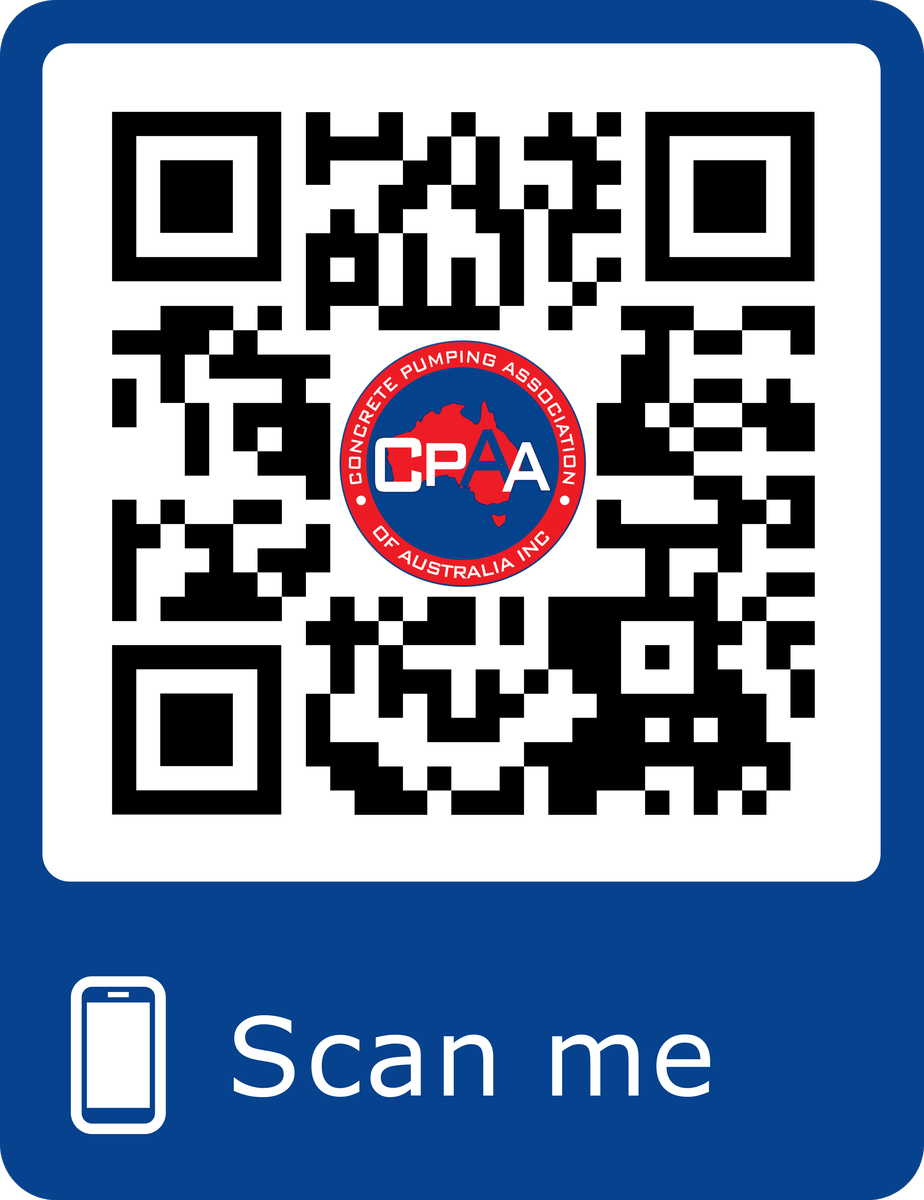 Any Shortcuts or Tips?
Ofcourse! Here is a list:
- Long Press a truck in the truck selection screen to skip to a Pre-operational check
- Long Press a check item in the Pre-operational check and Routine Inspections to take a photo and have it automatically linked to that check.
- Long Press the back button go straight back to the Truck Selection Screen. But remember to make sure you have saved your check.
- Long Press photos or file uploads to delete them.
- Long Press the logout button to skip the confirmation prompt.
- After copying a link open the dashboard by pressing the 'V' icon in the top right corner, then press the "Email Myself" . You can then send yourself the link! Replace the email address if desired.
- If you are ever unsure on something to do with checks or your truck you can refer to the diagrams in the dashboard by pressing the 'V' icon in the top right corner, then press a diagram you want. You can also use this to show or educate others.
- To Delete a truck, you must go into the truck details and press "Delete Truck" Warning: This cannot be undone!